Description
Our Euro Wall drapes are made from a durable Sunbrella fabric base color with nylon trim and single color cotton piping. Featuring Velcro tabs across the top of the wall for easy set-up and take-down.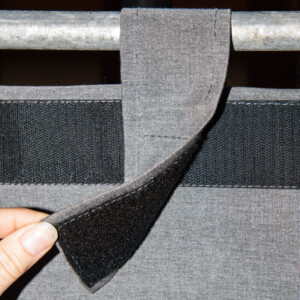 Also including a hidden nylon strip attached on the backside of the wall with grommets for an alternative way to display/hang the wall.
Euro Wall Measurements:
80″ High x 54″ Wide
2.5″ Velcro tabs
13″ High x 54″ Wide Valance
*Any embroidery added will be an additional charge.
Please allow 6-10 weeks for delivery. Mini swatches available upon request.