Many of you know us through our mobile trailer that travels to horse shows throughout the year. But, did you know that our home base is in Hartford, Wisconsin, where we have a permanent retail storefront and a large factory?




At our Wisconsin location, orders from the trailer, our online store and orders placed locally are processed and fulfilled. We have 12 employees (including Carrie, Curtis and Cody) who help to keep everything on track and put forth a team effort each and every day.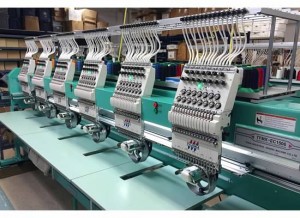 Our embroidery department is run by Andrea (who has more than 20 years with Personalized Products), Felicia (16 years) and Barb, who has recently joined the team. These three ladies are responsible for all aspects of the embroidery process, from programming the design and hooping the item, to thread color selection, trimming and finishing of the embroidery.




We have a total of 17 embroidery heads in the department (a four-head machine, two six-head machines, and a single-head machine) and more than 400 thread colors to choose from. The multiple embroidery machines allow us to work on jobs of any size in an efficient manner.




The sewing department is under the control of three ladies: Karen (10 years), Barb (two years) and Suzie, who joined the team last year and works with us part time. The sewing department handles the construction of an item from start to finish. The process begins with pattern selection, followed by the cutting of materials, and then the actual sewing and construction. All of this is done by hand for each and every order that we process.




The sewing department is responsible for creating products for Tally Ho, all of our Equine Outfitters horse clothing and Elite saddle pads, as well as all of the stable drapes and accessories. They also handle the sewing of letters, chevrons and medals to letterman jackets for our local high school, the Hartford Orioles.

Our retail storefront also carries a variety of items. Not only do we offer our equine items, but we also have a large selection of items for our local customers. We have team wear for the Hartford Orioles, and showcase a variety of promotional items, such as custom screen-printed T-shirts, tote bags and more.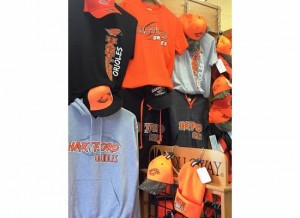 We have three wonderful ladies that handle our customer service, shipping and receiving departments and bookkeeping: Tina (15 years), Janice (more than 20 years) and Ashley (one year). These ladies keep the Personalized Products train on track on a daily basis.

So, you see, the Personalized Products trailer is but a piece of Personalized Products as a whole. While you will probably see Carrie, Curtis, Cody and Danielle in the trailer, there's nine additional people who help to sum up Team Personalized Products.

[msh_feedburner]