On October 9th, the Pennsylvania National Horse Show will kick off its 68th year at the Pennsylvania Farm Show Complex. What began in 1946 as a four day show has since grown into a 9 day affair and one of the largest indoor horse shows in the United States.

Personalized Products began attending PNHS over 20 years ago. In 1999, we began to offer PNHS souvenir for sale. While the mixture of items changes from year-to-year, one item you can always count on finding is our souvenir saddle pad.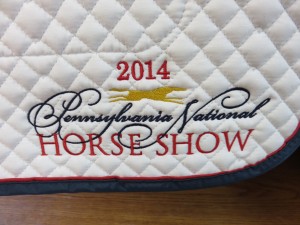 The pad shown in the photo is a Wilker saddle pad, but you can also have the PNHS logo embroidered onto a Personalized Products Mini Quilt pad, or a Deluxe Baby pad.  Want to personalize the souvenir pad even more?  We'd be happy to add your name or your horse's name under the logo on the pad for no additional charge.

The PNHS souvenir pads and apparel are available only during the horse show, so show up early an do your shopping while we have a full inventory!
PNHS Souvenir Wilker or PP Mini Quilt pad: $69.00

PNHS Souvenir Deluxe Baby pad: $49.00

[msh_feedburner]