The holidays are rapidly approaching! If you are in the process of making your holiday shopping list, let us suggest some of our favorite holiday gifts:
Squad Gear
If you're looking for something that will suit everyone in the barn, this is the gift category for you. We offer a wide variety of squad gear. Examples of such items include custom baseball caps, apparel, backpacks and more. We also offer screen printing services as well as embroidery for some of these items.

Custom Wool Pillow
Our pillows are made from the same beautiful wool as our wool dress coolers and can be fully customized. This is a lovely gift for trainers (with the farm logo embroidered on the pillow) and owners (with the horse's name and achievement embroidered on the pillow).
Custom Stable Accessories
This gift is perfect for everyone on your list, including your four-legged recipients. Whether it's a custom stall guard (one of our best sellers) or a custom stall bag, this personalized gift will be appreciated year-round.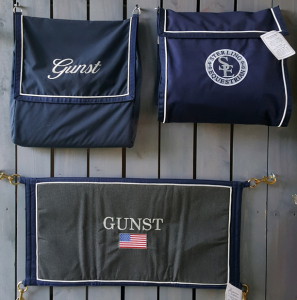 Please take note of our holiday shipping cut off dates below. There's still time to get your orders in before they begin to take effect. Happy holidays!