Equine Outfitters, a division of Personalized Products, was started in 2001 to meet the demand for high-quality horse clothing at affordable prices. Cotton fly scrims and wool dress coolers were our first items in production.  In the 14 years that have passed, we have expanded our horse apparel to 11 items, including one of our best-selling items, the Koolknit fly scrim.
Equine Outfitters also makes custom coolerettes, aka: brag rags.  Another one of our best-selling items, the brag rags can either be made from existing award coolers by cutting the coolers and re-trimming and finishing them or a duplicate can be made from scratch allowing the original award cooler to remain intact.
In 2015, Equine Outfitters has seen quite a few changes. We retired our original logo (see below) and adopted the new logo as shown above.
We also expanded our product line in the tack room accessory department.  We now offer a Euro wall stall drape, bandage holders, stall guards, and aisle guards. All of these items are custom made from durable Sunbrella fabric.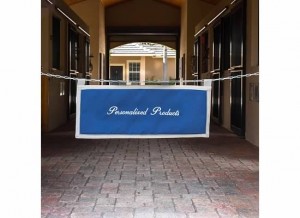 One of our most exciting events was the introduction of the Equine Outfitters Elite Saddle Pad. Conceptualized and constructed in Wisconsin, it is our first private-label pad made in-house. The Elite Pad is available in three different sizes, as well as made-to-measure for a truly custom fit.
This past April, Equine Outfitters attended LGCT Miami. It was our first time at a Longines event, and the debut of the Equine Outfitters booth. We had a fantastic time on the beach, showing off our made in the USA equestrian items.
This October you'll be able to stop and visit our booth at the Longines Masters of Los Angeles (October 1-4). We're looking forward to attending another Longines event and visiting the West Coast for the first time!
Stay tuned to all of our adventures and news about our products by following Equine Outfitters on social media. Like us on Facebook, or follow us on Twitter and Instagram.