The item you always knew you needed, but often went without: The Equine Outfitters custom stall bag. You won't be able to imagine equestrian life without this handy bag, flawlessly embroidered and ready to go. A bold statement of an accessory, this bag is function disguised in a mindful style that will make getting ready for your next equestrian competition or horse show feel effortless.
Here are a few of the attractive features of the Equine Outfitters custom stall bag that we sell at Personalized Products.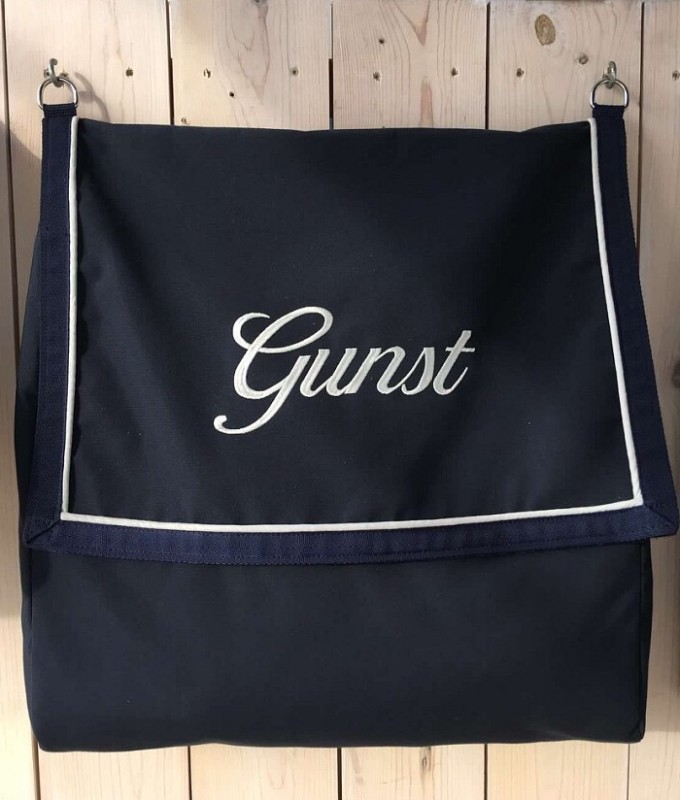 Made of durable Sunbrella fabric, the custom bandage holder can be easily coordinated with your stable colors. They offer a stylish storage solution for everything from brushes to bandages and sheets to treats, but is also reserved enough looking to present a professional face.
Measuring 21″ tall, 20″ wide, and 4.5″ deep, it's large enough to fit several items, but isn't bulky or cumbersome. The Equine Outfitters custom stall bag is completely enclosed to ensure items inside stay free of shavings and debris, and the front flap of the bag is the perfect spot for your monogram or custom farm logo.
At home or at the shows, the custom stall bag is a stylish solution for storing all those things you like to keep handy at your horse's stall. Just imagine your whole barn decked out with coordinating stall bags just in time for the busy season!
Personalized Products is currently working some of our largest horse shows of the year in our mobile unit. Because many people choose to buy our items in person, we have not yet made the custom stall bag available on our website. Please check back in shortly with us after browsing the rest of our selection, which includes Tally Ho horse bag products and other accessories and clothing from Equine Outfitters. Otherwise, we'll see you at the shows!