As we head into the proverbial "dog days of summer," we'd like to introduce you to Auburn Leathercrafters, one of the dog collar and leash brands we sell at Personalized Products.
Auburn Leathercrafters was founded in 1950 by Everett Dungy in the Finger Lakes region of upstate New York.  Three generations later, Alan and Anita Dungy continue the family tradition of making fine leather goods for dogs.
Family owned and operated for over 60 years, Auburn Leathercrafters creates handcrafted dog collars and leashes made of the finest full grain leather and materials.
The Tuscany collection from Auburn Leathercrafters is made of fine Italian leather.  It's crafted from Acqua, a leather originally developed for the marine industry.  The Tuscany collar and leash are resistant to stain, spills, mildew and bacteria.  Both the collar and leash feature bright nickel hardware and fine edge stitching.
Available in sizes 8″ to 26," the Tuscany collar fits a wide variety of dogs.  The collar is available in dark blue, light blue, pink, and red, and includes a personalized name plate with purchase.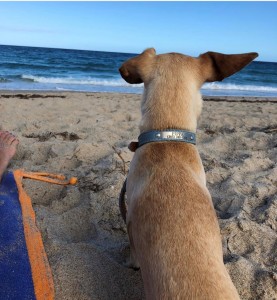 The Tuscany leash is 72″ long and is available in two widths: ½" wide, and 3/4″ wide.  Coordinating color choices of dark blue, light blue, pink, and red are available.  The leash also includes a personalized name plate with purchase.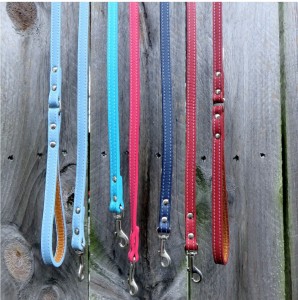 We think your dog deserves the best quality products! We are proud to offer the Tuscany collection dog collar and leash on our website, in our Wisconsin store location, and in our mobile unit. If you have questions about our products or need help placing an order, call us today at 1-800- 431-5257.