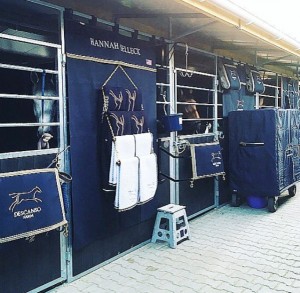 Horse showing in the summer often requires travel, lots and lots of travel. Many of our customers find their way to Europe to compete on European show circuits throughout the summer months. The Euro wall by Equine Outfitters is our solution to packing a full set of stall drapes, reducing overall weight and bulk for shipping.
The Euro wall is constructed of the same durable Sunbrella fabric as our standard stall drapes, with the same color, trim and piping choices. Easily adjustable Velcro tabs across the drape make for quick set-up and tear-down. The Euro wall can easily be coordinated with your existing draperies and stable accessories.
Another advantage of the Euro wall is its ability to allow you to promote your sponsors. The wall acts as a blank canvas for you to proudly display the logos of all your sponsors. It's also a great place to display the flag of your home country.
So, if you're travelling abroad, or just looking for a quick and elegant set-up for your stable area at the shows, the Euro wall is for you. For more information, or to place an order, call us at 800-431-5257.