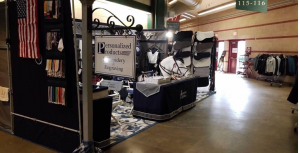 We kicked off our Fall 2018 horse show schedule last week at The Kentucky National Horse Show with the Personalized Products mobile trailer. Next up on the list: Capital Challenge Horse Show, September 28 to October 7.
In previous years at Capital Challenge, we have been located in the outdoor vendor area with the Personalized Products trailer. This year, we're changing things up!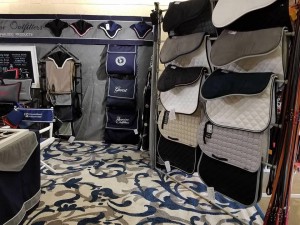 We'll be located in the Rotunda of the Show Place Arena. We are debuting our newly combined Equine Outfitters/Personalized Products booth.
Our new concept booth will showcase:
Made in the USA products by Equine Outfitters
Garments for staff and customers (A.K.A., squad gear) featuring embroidery and screen printing
Saddle pads, including Equiline pads
Halters, belts, and dog collars with personalized name plates
We have created the perfect environment in our new booth, so you can easily sit down with us and plan your custom orders. Now is the perfect time to order holiday gifts, year-end awards, and custom items for 2019's winter circuits.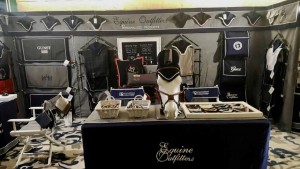 For those of you who normally shop with us at PNHS, please keep in mind that we are not attending PNHS this year.
Our remaining fall indoors show schedule is as follows:
Capital Challenge Horse Show
Kentucky Dressage Association Fall Classic 1
National Horse Show
US Dressage Finals
See you soon and happy fall!