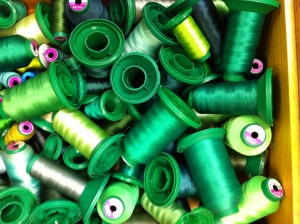 One of our specialties at Personalized Products is our embroidery work. We pride ourselves on the quality of embroidery that we are able to produce. One of the contributing factors to our embroidery is the thread we use: Isacord, produced by the Amann Thread Company.

Amann was founded in 1854 by Alois Amann in Bonningham, Baden-Württemberg, Germany. From its conception, Amann has been a pioneer in the thread industry. They have grown to be a global company employing over 1600 workers in 6 different companies.

Carrie and Curtis (co-founders of Personalized Products) were lucky enough to get a private tour of the factory while they were in Germany earlier this month. While the production area is top secret, Carrie was able to snap some photos of the finished product coming off the production line.




The thread that we use (Isacord) is an extremely durable polyester thread; it is chlorine safe, lightfast, and can even be boiled without losing its color! With over 390 different colors to choose from, we're sure to have just the right shade for all of your embroidery needs.

[msh_feedburner]